The following graphic speaks eloquently about the problems in public education in America; problems that exist in spite of the heroic efforts of teachers.
Fort Wayne  and South Bend are two of Indiana's greatest cities and both have many cultural, educational, business, and recreational resources to offer to their citizens. As is true in so many medium- to intermediate-sized communities (populations of 100,000 to 300,000), both communities have diverse populations. What is also characteristic of such communities is the existence of  urban, suburban, and rural public-school districts. Both Fort Wayne Community Schools and the South Bend Community School Corporation, within their district boundaries, have a high proportion of children of color; children from families that are on the lower end of the income continuum, regardless of color; and, the largest percentage children for whom English is a second language. By virtually any criteria, in diverse communities, both have the highest percentage of kids that could be thought of as disadvantaged students.
Both school districts are led by some of the most highly educated and experienced administrators in the State of Indiana. They are staffed by a diverse faculty of teachers who have been educated in the nation's finest colleges and universities and who are represented by the same unions and associations as their colleagues from Indiana and around the nation. Teacher salaries are within the same range as other area school districts that compete for qualified teachers and typically exceed teacher salaries the community's parochial schools offer.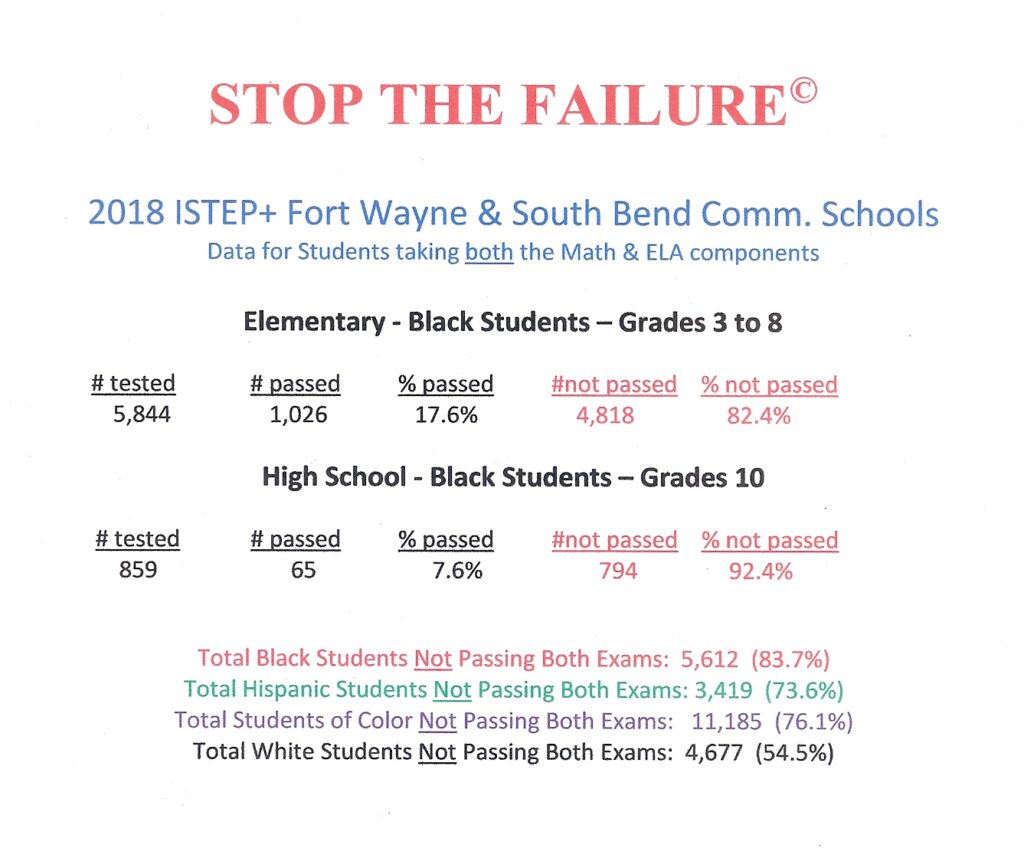 These school districts also offer a variety of programs for students with a broad range of special needs. And, so there are no misunderstandings, they teach to the same academic standards as must teachers in every other school in their state. They also continue to make the best investments in their school buildings and equipment as their constituents will permit.
Both cities have been my hometowns in major parts of my life, and I am proud to have lived in South Bend and Fort Wayne, Indiana. I graduated from one of the two districts, as did all three of my younger siblings, and I spent the greater part of my life and career in the other. All three of my children attended and graduated from Fort Wayne Community Schools and went on to earn both undergraduate and graduate degrees in their chosen fields of interest. There, I also spent ten years as a substitute teacher.  Although my wife and I are in the process of moving from Fort Wayne, that decision had nothing to do with the quality of life offered by the community. We will always love Fort Wayne.
We have the greatest possible respect for the dedicated teachers and administrators of both school districts. We also have a family member who is a principal in one of the school districts and who strives, every day, to make a difference in the lives of his students.
The graphic is offered to illustrate how the combined student bodies from these fine school districts struggle, academically, despite the heroic efforts of public school teachers, not because of them. In this post, I will provide only a few highlights of the data and what I believe they tell us . My new book will allow readers to delve more deeply in the data.
These two school districts are like a thousand other school districts of comparable size and demographics and this just begins to reveal the sheer size of the crisis in public education in America. If we take the total number of students that are struggling in these two districts, divide that number by two, and then multiply it by the estimated one thousand school districts in America of comparable size and demographics, we are talking about eight million school children. Let me repeat that number: approximately 8,000,000 kids.
Add numbers from the roughly fifteen thousand other school districts in the U.S. that are smaller, larger, richer, poorer, and more segregated and the numbers are both staggering and compelling. Anyone who denies that we have a crisis in public education in America must be challenged to take another look and, yes, the degree to which the validity of state competency exams is questioned, is understood.
The only reason to question the validity of state competency exams is that they are utilized to evaluate the quality and effectiveness of teachers and public schools and this author shares the conviction that their use for that purpose be categorically rejected.
What educators dare not reject, however, is that, with all the imperfections of standardized competency exams, they are still a measure of the ability of children to demonstrate their mastery of the subject matter set out for them by academic standards of their state.
            MOST IMPORTANT OF ALL, THESE RESULTS ARE A MEASURE OF THE EFFECTIVENESS OF THE EDUCATION PROCESS WITH WHICH TEACHERS AND SCHOOLS ARE EXPECTED TO EDUCATE OUR NATION'S DIVERSE POPULATION OF STUDENTS. I CHALLENGE ANY PROFESSIONAL EDUCATOR, WHO DISPUTES THESE DATA TO LOOK INTO THEIR OWN EYES IN THE NEAREST MIRROR AND TELL, FIRST THEMSELVES, AND THEN THE AMERICAN PEOPLE, THIS IS THE BEST WE CAN DO.
            The essential purposes of this work is to show that this is nowhere near the best we can do for our nation's children, and to offer a solution. It is a solution engineered to give every child a quality education to develop the knowledge and skills they will need to identify and then pursue their dreams and aspirations. Equality in education is the categorical imperative of our time.
The other essential purpose of this work is to give the millions of men and women who have chosen to serve our nation and its children as educators, an education model that will allow them to become the teachers they envisioned when they chose to enter this demanding profession. They chose teaching because of their desire to make a difference in the lives of kids and in their communities and we must enable, not just allow, them to do their jobs to the absolute best of their ability.
It is this author's sincere belief that there is nothing we can do as a society that will have a greater impact on the quality of life of the American people, both individually and collectively, than creating an education process that will prepare all our young people to meet the unprecedented and unimaginable challenges the balance of this 21st Century will present.
Work on my new book is well underway and it will lay out the education model I have created in great detail. In the interim, the reader is invited to view the latest version of my education model at https://melhawkinsandassociates.com/education-model-white-paper/
You will also find a copy of the white paper written to lay the logical foundation for the model. Please read not in search of reasons to reject rather so you might envision what it would be like to teach in such and environment. Please share it with your friends and colleagues.